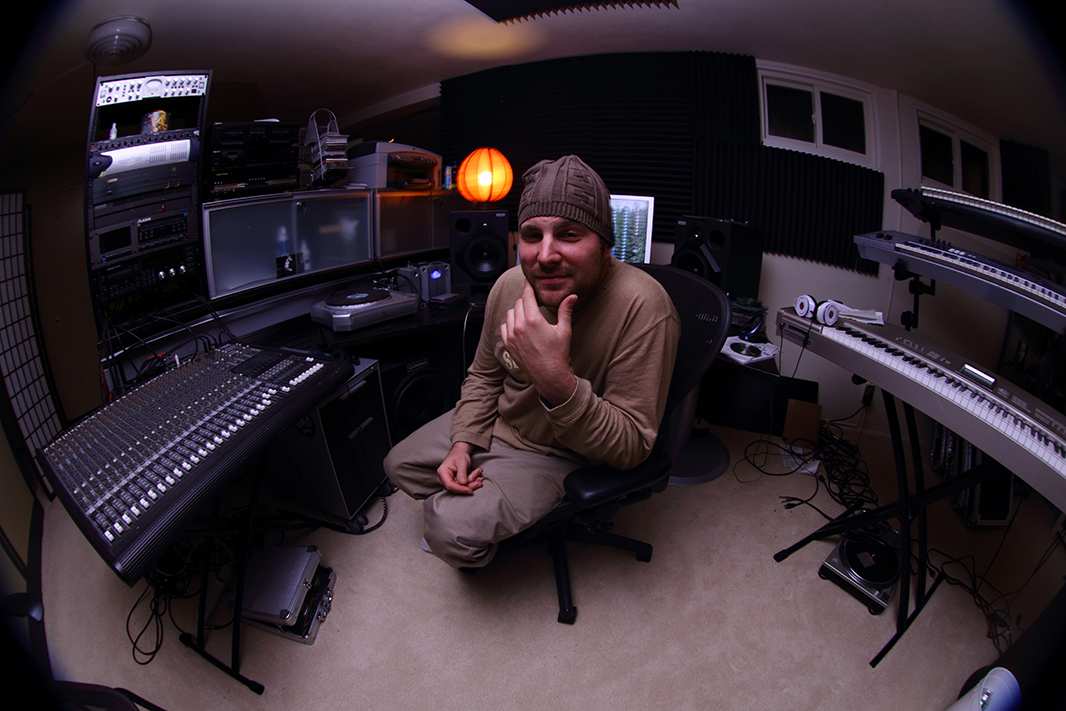 Starting out as a skateboarder in Portland and developing to one of the OG Burnside Skatepark Pioneers, My-G partnered with a host of sponsors and brands that have supported his career as a pro skater. Unfortunately that career path was cut short after My-G tore his ACL at which point he turned towards musical expression as an outlet for his brand.
Never humbled by hard times, My-G began to produce music and secured licensing with the same sponsors that supported his skating career.
"After I tore my ACL I started doing music licensing with my music to corporate sponsors. My first real breakthrough was under the alias Sinista Pushaman for the XBOX Amped 1 video game. Microsoft licensed my entire instrumental album Vito y Coco for the snowboarding game and it helped me break into the action sports industry. From there I licensed my music to places like Burton, Analog and bunch of other sponsors. That kind of snowballed into a musical career of producing music for advertising and marketing companies to use – then that led into recording and rapping more. I've been building with people coast-to-coast and building my empire that way since then," My-G explained.
Expanding beyond just music My-G developed a whole clothing brand surrounding his music to help sustain his musical aspirations and goals for uniting people through diversity and equality initiatives.
"I had been getting support for music for a few years when I thought to sell merch along with the music and give away music for free to give the fans more. It turned into a diversity and equality movement and now together with the music we have a fresher vision for InDaMix. It's an apparel and accessories brand powered by the music," My-G said. "Basically the music that I produce is just a diary of my life, all my experiences get written down put into Protools and bounced onto disk. I just share that with other people that relate to the struggles of my experiences."
The people of Portland have shared with My-G in those struggles and experiences as it has all come out in his music for fans and with shows for major artists that he was able to bring in town for Portland Hip-Hop fans.
"The Northwest in general is pretty cliquey but I've been able to do a bunch of action sport and snowboarding festivals since the mid 90's and it's been crossing over to the urban demographics for years. All the rappers have been rocking skate attire and so we just keep pushing," My-G said. "I love giving back to the city of Portland, at the end of the day whether cats want to admit it or not I've been doing it since the 90's putting on shows and giving back to the Hip-Hop community out here. I was the first one to bring real underground Hip-Hop through Portland and I'm skilled in all of the elements of Hip-Hop. From b-boying to producing and DJing to emceeing to graffiti – I live Hip-Hop culture. InDaMix's foundation has been to bring major acts in town, work with them and just continue to build with them. I just brought cats that I was feeling to my own city and so we still have that rapport."
Chief of Operations
Emcee
DJ
Producer
Studio Engineer
1994-1999
-Pro skateboarder for Vans, Ecko, Volcom and Black Flys Eyewear
2000
-"Vito y Coco" which was licensed for Microsoft Xbox Games Amped and Amped 2
2002
-"Politick'n" & "Sidewalk Symphony" featuring Talib Kweli, Dead Prez, Skillz, Killah Priest, Mac Dre & more
2003
-"Sound Sessions 01" Worldwide for Burton Snowboards & Gravis Footwear
2004
-Inks licensing deals with multiple corporations through multi-media facets, etc.
2005-2006
-"Somethin' You Can Feel" with R&B sensation Rose
2007-2009
-"Database" via Spectre for College push
-MySpace featured artist
-Endorsed by Mackie Pro Audio.
2010-2011
-"Sumpin' to Smoke" and  Video with Devin the Dude.
-Has a #1 circulated single on radio play
-Portland NY Connection", a collaboration with legendary producer Pete Rock
-Tour w/ Talib Kweli
-Mastered 2 new projects – 'Book of Life' and 'Vito y Coco 2' (instrumental)
-DJ'ing nationwide for X-Games LA, ASR Drew Tour
Licensing production all-over-the-board for Brother printers, Smith Eyewear, Nike, Adidas, Polo, Calvin Klein, DC Shoes, Levis and many more…
2012-2019…