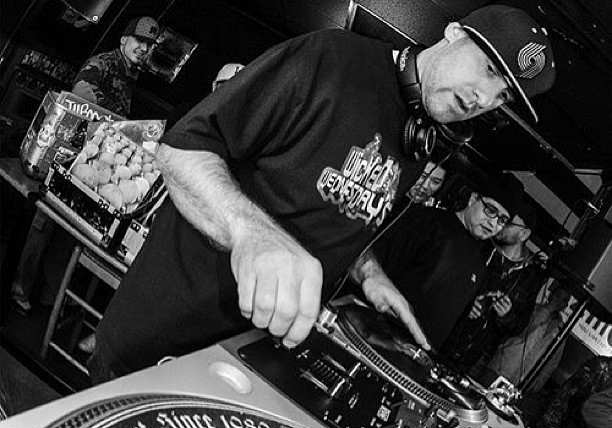 DJ Wicked has been a staple in the Northwest Hip-Hop scene for more than a decade. His determination and dedication to the art form has led him to opening shows for the likes of the Wu-Tang Clan, Eminem, and Outkast, as well as performing on the Northwest stretch of some of the most prestigious DJ tours of all time, including the Future Primitive Sound Sessions, Deeper Concentration, and the 2003 "Scratch" Tour.
Wicked has showcased his talent both nationally and internationally at a number of high profile music festivals, such as the Phoenix Festival, North by Northwest, South by Southwest, and the "Avataria" music festival in France. Wicked has also performed at numerous skateboarding and snowboarding industry events, including "Vegetate" at Mt. Hood Meadows, the "Backyard Bang Railjam", and demos for both DC Shoes and Girl Skateboards, as well as teaming up for various events with Adidas, Toyota/Scion, Skullcandy Headphones, NIKE, Pony, and more.
Wicked's diverse DJ sets combined with his turntable skills, tasteful record selection, and devotion to preserve quality Hip-Hop music, has earned him the honor to share the stage with some of the most prestigious artists in the industry, including Mix Master Mike, Z-Trip, DJ Revolution, Q Bert, D-Styles, and Mr. Dibbs.
Wicked is best known for his self released mixed CD's: "Got Milf?" (a collection of some the of best 80's pop, guilty pleasures that you hate to love), "Just Plain Terror" (a Halloween inspired mix from Hip-Hop's dark side), and "Fuck the Radio" (an Underground musical assault against watered down, mainstream rap music).
Collaborations with Crooked I, 2MEX, Grayskul, and Boom Bap Project, have gained Wicked recognition from URB, SPIN, and The SOURCE magazine, and have led to Wicked's spotlight in the upcoming Street Artist Pictures documentary titled "God Damn That DJ Made My Day". Since returning home from the 2009 "Dazed N' Dirty" tour with Potluck and D12, DJ Wicked is once again hosting a number of DJ residencies in the Portland area (including the legendary "WICKED WEDNESDAYS"), as well as performing at clubs, concerts, and DJ events around the globe. Currently in the studio working on his next full-length release, DJ Wicked continues to maintain his reputation as the hardest working, most sought after DJ in the Northwest!